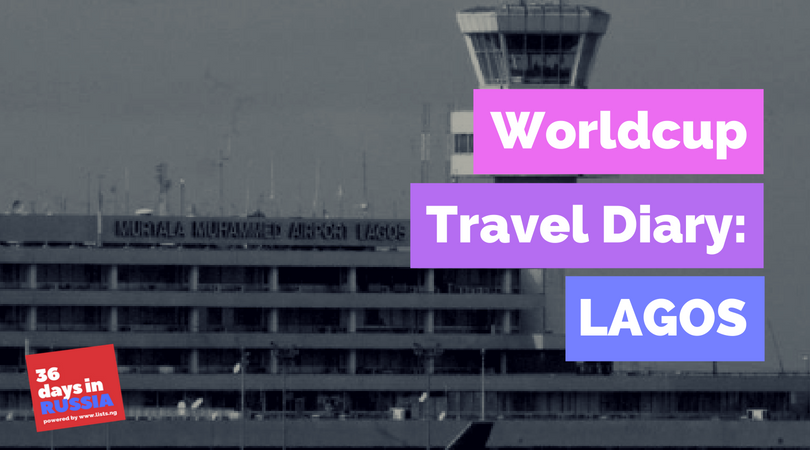 I am spending the next #36DaysInRussia. While the World Cup is the 'excuse', this trip is #BeyondFootball for me. Oh, best believe I'll be cheering the Super Eagles to success here, but this trip is a once-in-a-life-time opportunity to be in one nation, connect with people from all over the world and have a first-person view of their lifestyles. It is a chance to see what happens behind the scenes, during a World Cup (so maybe when Nigeria does host it, I'll be able to contribute valuable experience to making it grand). It is a chance to create content for @listsng, the good people who made this trip happen. And oh, I turn 30 on the 4th of July, so it is also a chance to get away from the distractions back home, reflect, think and plan for the next 10 – 20 years.For the next few weeks, I hope to share my experiences here as frequently as possible. Turn on notifications, share with someone, and follow the tag – #36DaysInRussia. Stories begin now.
https://instagram.com/p/Bj-jSQNlXhK/
L A G O S
Of course, it started in Nigeria. I was supposed to catch a 6:10pm flight to Moscow with an 11 hour layover in Dubai but I was running late. I was going to be out of the country for 38 days so I had to wrap up all meetings, tie up all loose ends and balance all books, so I won't come back to nothing in July. I also needed to change my phone, to one with a faster processor and better photo quality because I wanted to curate my experiences in HD. That is where the problems started. I tried restoring iCloud on the new device, but I couldn't get the 2-factor authentication code. I then connected the phone to my Macbook and used iTunes back up, but in my rush, I restored a back up from 2016. In one fell swoop I lost 2 years of data. And oh, I almost forgot to mention that on my way back from getting the phone, I got stopped by Policemen. They said I ran a red light under that Ikeja Bridge. I still insist the light wasn't even orange when I crossed. Long story short, while I would have ordinarily seen the matter to its logical conclusion, I had to part with N4,500 so I could rush home and back to the Airport. #ThisIsNigeria.
The check in counter was supposed to close by 5pm. I got there 4:45pm, then my Nigerian brethren decided to use me and shine. All I needed to get into Russia were my Passport and FIFA Fan ID, but the aunty and uncle at the barrier said I also needed a match ticket and hotel reservation. I didn't have any information to that effect and I told them. I mean if Emirates wanted me to come with those documents, they'd have asked, won't they? Aunty, the first guardian of the golden gate told me point blank that I wasn't going to get my boarding pass without those documents. Remember, because I was having iCloud issues, I couldn't download apps, so I couldn't access my friend/host who made all arrangements/reservations for me. I didn't even have his number anymore. Check-in counter was closing in 8 mins. I was fvcked.
Then in a lightbulb moment, I remembered Whatsapp Web. While I couldn't chat, I could retrieve his number from the desktop application. So I brought out my laptop, called him, and he emailed my match tickets. You need to see the eye I gave the faux 'keepers of heaven's gate' as I waltzed past them. The check-in counter closed after I collected my boarding pass. Look at God.
Maybe it's the recession, maybe it's greed; but every official you will meet from check-in to boarding the plane will demand 'something' from you. To be fair to them, I came prepared with plenty N500 notes, and because I was already running late, I didn't hesitate to squeeze one into their palms as soon as they asked. That venture cost me N4000. 8 different check points. Oprah Chidifrey.
But I boarded – one of the last persons to. And that was the most important thing. And another important thing happened. I finally received the 2 factor authentication code from Apple, but I couldn't download anything because we took off a few minutes later.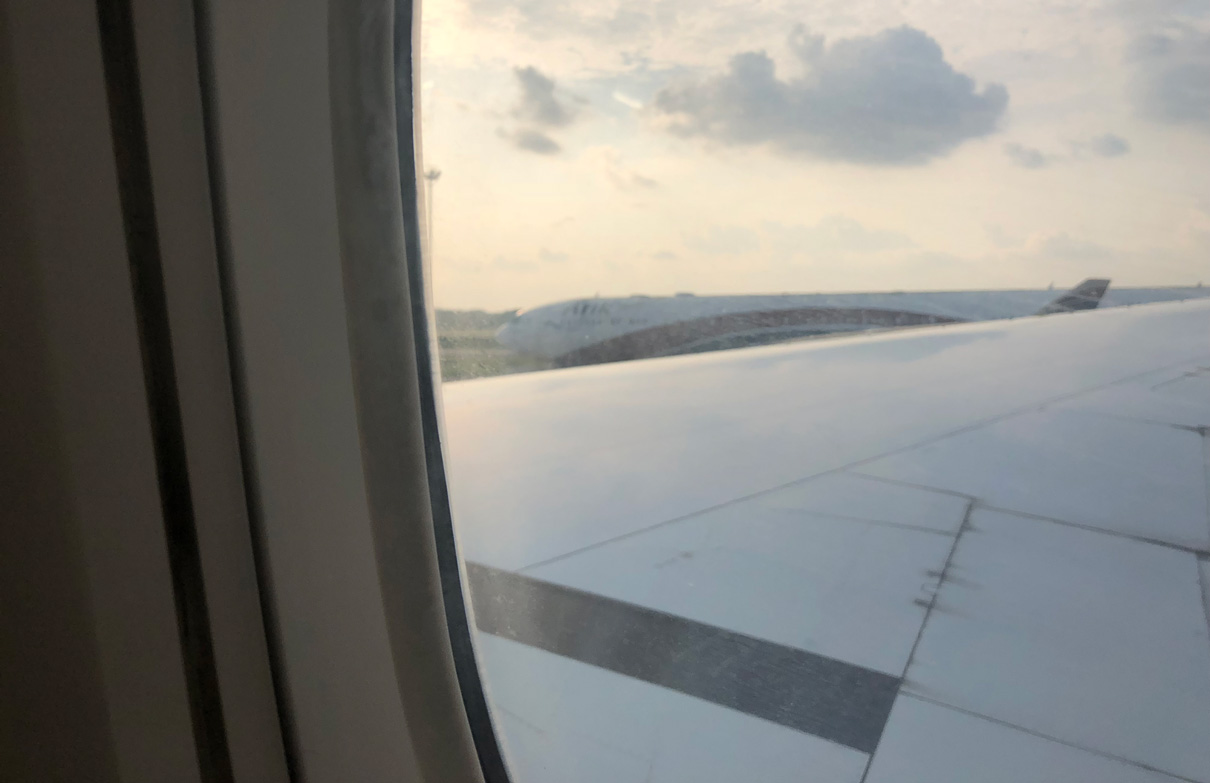 Good bye Lagos. Hello Dubai.
Follow the full travel series HERE.